Do you want to learn how to attract a girl who already has a boyfriend? Are you convinced that you don't want to back down from this one because she is totally worth it? Here are some methods that you can use to steal that girl away before her boyfriend even realizes what hit him and his relationship.
– Be Every Girl's Dream Guy.
If you can show a girl that you are perfect in every way, she will start fantasizing about you every day. Fortunately, this isn't too hard to do. All that you have to do is get her to feel butterflies in her stomach whenever she is around you and make her heart skip a beat every time that she sees you. You might want to take things slow when it comes to this, though. Take your time reading and mastering her body language and then look for certain signs of interest whenever she is around before you make your next move. These are all subtle ways on how make a woman love you by controlling her mind. A kiss on the cheek or a shy smile are some signs that a girl is interested in you, for example; so make sure you take advantage of those things whenever you can.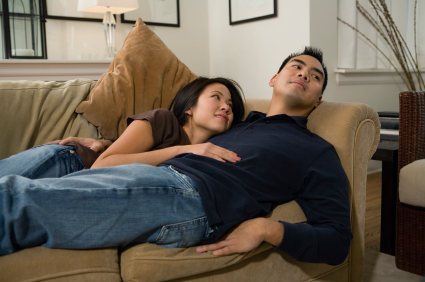 – Never Look Away From Her.
Whenever you talk to her, make sure you lock your eyes onto hers. Eye contact happens to be very powerful in this particular game and you should be able to charm her through it in no time. Eye contact definitely is a huge part in the flirting game. Not only will she feel like you don't have eyes for anybody else but her, but she will also end up feeling much more important to you overall. Make sure you let her know that you are interested in finding out about her, as well. This will definitely lure her in and attract her towards you more and more.
 – Pile On the Compliments.
Let's face it: when people are in relationships, they end up taking certain things for granted because they feel secure where they are. This means that her boyfriend has probably forgotten to compliment her on a daily basis by now. If you don't believe me, try reading SIBG's previous post and find out what women want, and trust me– compliments will get you far. By complimenting her yourself, you can therefore show her how much you value her and how much better you are than her current boyfriend in that respect.
 – Understand Her Completely.
Attracting a woman, according to this Yahoo! Voices article, can be made easy. But it's a different story if she already is attached to someone else. So now what? Here's a thought– female minds do not work the same way that male minds do. So, make sure you play around with her mind until you completely win her over. Listen to her whenever she speaks and pay close attention to the little details that she shares, for instance. Remember: if a girl can speak her mind around a guy, she will tend to feel more comfortable around him overall.
Don't forget to make her laugh, either. This will ease up any tension that might still exist between you and make her feel happy whenever she is around you. Stay cool, too, and don't make it too obvious that you are planning to steal her away from her current flame. These are just some of the most effective tips on how to attract a girl who already has a boyfriend.
 – Use Fractionation.
This is the grand-daddy of all "covert" seduction techniques, and if used properly, it will bestow upon you the superpowers to seduce any woman away from her boyfriend. And as you can probably imagine, it's super controversial because it has got the power to break up otherwise perfectly happy relationships.
Fractionation is the original hypnotic seduction tactic which is perhaps the most sought after especially given its elusive status. To find out more about Fractionation, click on this link below.