Did you finally get the cell phone number of the woman that you have been eyeing for a while? Are you on top of the world, but aren't exactly sure how to phrase your first text to her in order to convince her to go out on a date with you in the end? Of course, you don't want to ruin anything, right?
In this exclusive SIBG.com, you'll learn five tips that can help you increase your chances of getting that woman to go out with you – just by seducing her through text.
Make no mistake: your smartphone is a potent seduction tool. In fact, one of the very first things that our new Baltimore Seduction Lair members learn is to how to master the art of texting. It's that important!
Before you start, you'll have to understand this one thing:
Given the amount of information in this guide, it's quite easy to miss out on some important details which may cause you to fail down the line…
To help you out, I've prepared a (free) Action Checklist which you can download and print. Before you write a text to her, just leaf through this Action Checklist just to see if you've not missed out on anything important. Easy, right?

There's one minor catch though – once you've downloaded the Action Checklist, kindly avoid sharing it with anyone else. It's for you, and you only, OK?
Let's start! 🙂
Using Mind Control In Texting
What you'll find here (and elsewhere in SIBG.com) can be quite different from the other "seduction" blogs out there. (In fact, we have nothing in common with what's known as Pickup Artists or PUAs).

Here's what make us different –
We are huge proponents of using Mind Control in order to attract women.
This means that we do not do "Pickup Artist" stuff like dressing outlandishly (i.e. "peacocking") or spouting pickup routines or openers on strange women. Instead, we go about ten levels deeper into the realm of female psychology in order to exploit their emotional vulnerabilities to our benefit.
And as you can imagine, this is hardly politically correct, and indeed, we have been attacked by the mainstream media (cough, Huffington Post, cough) for the longest time for our allegedly misogynistic views.
But of course, we don't give a fuck. (And if you want to be successful with women, you should also learn not to give a fuck.)
Understand this –
Much of this material are rooted in Mind Control, and therefore it will be useful for you to get a basic understanding of how Mind Control works in seduction.
So, before you continue with the rest of this guide, first watch this online Masterclass on Mind Control conducted by Derek Rake –
Derek Rake is the founder of Shogun Method, possibly the world's first Mind Control Seduction system ever to achieve international recognition. (Sidenote – read the Shogun Method review – it will give you an overview from a layman's perspective.)
Seriously, go watch the Masterclass. You want the absolute best when it comes to dating and seduction knowledge, right?
Don't worry – we can wait for you to come back. 🙂
SIBG's Ultimate Guide To Texting – Five Tips On How To Text Her
Tip #1: Just Text Her Already!
There is absolutely no reason why you should overthink things or wait too long before texting a woman that you like. In fact, if a woman gives you her phone number, there will only be one reason behind it: she wants you to get in touch with her, right?
So, what are you waiting for? Remember that it's not like you need all the right, perfect words to make her your girlfriend in an instant. Just get in touch with her, pronto! 😉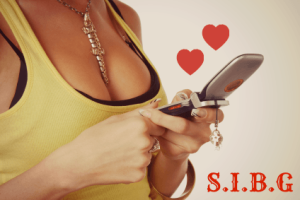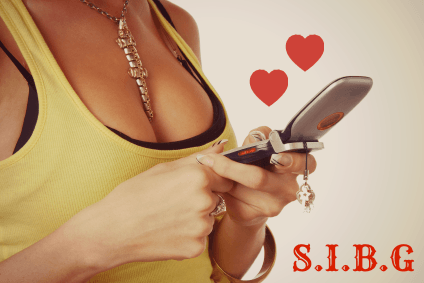 Make sure you keep your text message short and sweet, though. A simple text won't just let her know that you are thinking about her and her well-being, but it will require her to respond as well.
But caution: your first text is often the most important simply because if it sucks, then it's practically game over for you. Therefore, you must always get this right, the first time!
To make sure that I don't mess it up, I like to "embed" certain hypnotic phrases in my first text: it's something that I learned from Derek Rake when I studied under him for a couple of years. I'll tell you more about this later, but it involves using this technique called "fractionation".
Fractionation is one of the ten "forbidden hypnotic patterns" which is often used by the experts to build emotional rapport quickly with a woman. It works well both face-to-face and over text. To find out how Fractionation works, click here for a guide.
Tip #2: Make Her Miss You.
Once you have started texting each other for a while, you can start to lay low eventually and stop replying to all of her texts.
This means that, if you aren't too interested in her latest text, then don't reply to it. Just lay low for the day and try texting her again the next day (or in two days) as if nothing had ever happened.
I know this may sound somewhat risky to you, but then again, there's no gain if there's no risk. Do it!
Extra credit: Use "Implanted Commands" in your texts in order to plant ideas in her mind covertly and control her emotions. See Page 6 of the free Action Checklist.
Tip #3: Use Emoticons or Emojis to Your Advantage.
Regardless of how playful and funny you may in real life, it may be hard to convey that playfulness and that humor through text. What you might not realize, though, is that you can use different emoticons to help you out when it comes to this.
Be creative and try inventing some of your own emoticons while you're at it, so she can ask you about them and know exactly what message you are trying to convey to her each time.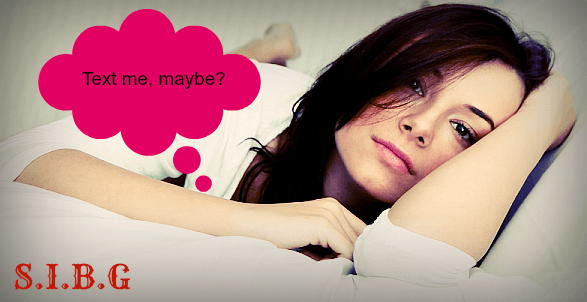 Tip #4: Practice Perfect Timing.
Believe it or not, timing every text before sending it would be vital in this department.
Additionally, if she takes five minutes to reply to one of your texts, for example, you should try and time your response to five minutes after her texts, too. Ideally, you should take your time most of the time and keep her guessing if you will ever respond or not. This is sure to drive her crazy, agree?
Now, while it may be true that perfect timing can definitely help you out when seducing a woman through text, there are other things that you will need to do, too.
Try to keep busy, for instance, and meet other women on the side (read this handy guide if you need help). If you keep busy, then you won't worry too much about whether a woman is texting you or not, right? You will just enjoy the journey overall. 🙂

Tip #5: Use Implanted Commands.
Implanted Commands are Mind Control lines which are used to plant ideas inside a woman's mind without her knowing. Usually used in verbal communications, Implanted Commands also work tremendously well over text (with some modifications).
For some sample Implanted Command lines which you can "copy and paste" and use over text, watch this YouTube video –
Tip #6: Use Fractionation.
Earlier in this guide I had mentioned about using Fractionation over text. I have reserved this technique to the end because if you've read this far, you deserve this. 🙂
While most acknowledge the power of Fractionation when used in face-to-face situations, some are downright skeptical on whether the technique could be used effectively over text.
Here's the good news:
We have tested this over 1,000 interactions with women, and the answer is a resounding YES. Women seem to be wired the same way everywhere, and it seems that they respond to "embedded hypnotic commands" rather well too when delivered over text.
This means that we recommend using Fractionation over text (and also through email and Facebook messages if you are wondering). Now if you are still unfamiliar with the technique, download this free guide here –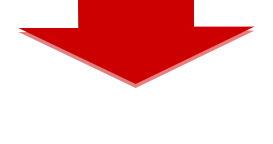 It's required reading (and watching) for all the members in the Baltimore Seduction Lair. Go check it out and you'll know why.

-Matthew Ganz, founder, Baltimore Seduction Lair (SIBG.com)
PS: If you've got any questions regarding this guide, just leave me a message below and I will email you back. 🙂